Accessibility, also known as "a11y", refers to how well a website functions for people with disabilities. Common examples of disabilities in this space include visual conditions like color-blindness, vestibular conditions like animation nausea, and motor disabilities such as cerebral palsy, which happens to be the focus of this article.
The Feature
I am tasked with creating a "jump menu" for navigating tag archives.  Something like this: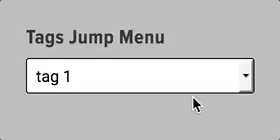 There is no submit button.  By merely selecting a menu item, the page navigates to that particular tag archive.  The premise of this UI is that, by not having to click a "submit" button, we save the user time and decision-making, hopefully improving the experience.
The Problem
This all works well enough, assuming you're using a mouse.  But what happens if you're using a keyboard?  Continue Reading How We do Accessibility: A Case Study